These twenty pivotal years in the life of Lanza del Vasto (the pen name he adopted in 1927) are difficult to summarize, due to his fulsome encounters and travels. Alone and on foot, the author traveled through Italy and Greece and went on pilgrimages to India and the Holy Land. He stayed in Florence, Berlin, Rome, Paris and Marseille.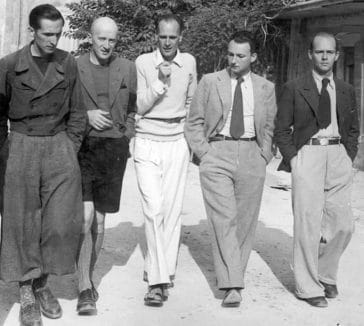 Always absorbed by his project of a new philosophical system, he developed and shared it with respected intellectuals: Gabriel Marcel, Maurice de Gandillac, Simone Weil. He also befriended and brought under his wing, Luc Dietrich, a young unfortunate author.
But the decisive event of this period was his meeting with Gandhi in 1937. Indeed, he did not go to India to experience oriental exoticism, but to learn how to "become a better Christian". Non-violence appeared to him as the social and political translation of the Beatitudes. On the slopes of the Himalayas, he received a call from God to make this message known in the West.
Back in France in 1938, observing the atrocities of the developing war, he decided to wait. Who would answer the call from Return to the source ? In 1944, a number of people came to listen to him evangelize, on Saint-Paul street in Paris. His plans for a rural community began to emerge. It would take shape four years later when the great adventure of the Ark began.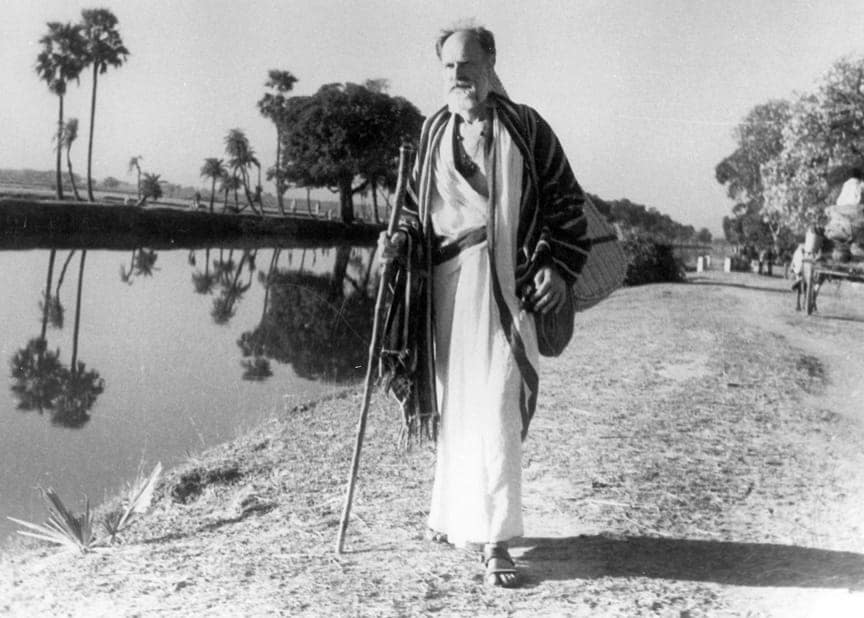 KEY EVENTS
Travels in Europe (1930-1936)
Summer 1930: one month in Germany.
January-August 1931: Berlin.
October 1931 - September 1932: Paris.
March 1, 1932: wrote The Stained Glass.
Late March 1932: met Luc Dietrich.
October 1932 - December 1934: in Italy. Milan, Palermo, Rome.
May - August 1933: walked from Rome to Bari. Began Principles and Precepts.
August 1933: Luc in Italy.
November 1933: Luc in Florence. His Book of Dreams.
February 1934: Lanza began Judas.
Summer 1934: Luc and the Happiness of the Sad Ones.
January-July 1935: Paris.
Summer 1935: Paris-Caen, Caen-Florence by bicycle.
October 1935 - December 1936: private tutor in Versailles. He finished Judas.
July 1936: Marseille. He began Gilles de Rais.
August 1936: Italy.
November 1936: England.
Pilgrimage to the Sources (1937-1938)
December 22nd, 1936: in Genoa, boat for India.
January 3rd, 1937- March 10th 1938: India.
January 29th, 1937: met Gandhi; three months in Wardha.
May 1937: Himalayas. Night of June 16th to 17th: the call of God.
July 5th: at Shivananda's.
July 20th: novice of Sadhoek Sharma.
August 20th: at Tagore's in Bengal.
September 1937: three weeks with Gandhi.
October 1937 - February 1938: Himalaya.
February 20th, 1938: Goodbye to Gandhi.
New trips (1939-1940)
End of March 1938: Egypt.
April 1938: one month in Italy.
April 29th - June 25th, 1938: Paris. Judas (Grasset).
Summer 1938: three months in Rhodes. Private tutor.
October - December 1938: Turkey, Syria, Lebanon on foot.
Christmas 1938: Bethlehem. January 1st, 1939: Nazareth.
February 1939: Damascus, Beirut. March 1939: Constantinople.
March 20th - April 10th, 1939: Mount Athos.
June 1939: Florence. July 10th, 1939: return to Paris.
End of August 1939 - April 1940: teacher in Switzerland.
Years of war (1940-1944)
April - June 1940: private tutor in Toulon.
July 1940 - December 1942: Marseille (and Allauch, near Marseille).
Autumn 1940: with Luc in Megève, for The Learning of the City
June 1941: in Allauch with René Daumal. Met Simone Weil and Chanterelle.
Summer 1941: with Luc in Lourmarin.
December 1941: wrote The March of the Kings.
April 1942: The Figure of Things (Laffont). Famous poet.
May 1942: Lanza wrote Dialogue of Friendship with Luc.
Autumn 1942: the Nazis invaded the "free zone".
December 1942: short stay in Paris.
January - May 1943: wrote Return to the Source in Recologne.
Summer 1943: Marseille and the Alps.
October 1943: Return to the Source (Denoël). Huge success.
October 1943 - June 1948: lived in Paris.
January 26th, 1944: birth of the Ark.
August 12th, 1944: death of Luc Dietrich.
Post-war period (1945-1948)
January 1945 - June 1948: weekly talks, St. Paul street.
Spring 1945: Principles and Precepts of the return to the obvious (Denoel).
June 24th, 1945: first Saint John celebration at the Ark. First wishes.
Summer 1945: in Recologne.
July 1946: pilgrimage to Chartres on foot.
August 1946: Switzerland, Italy.
October 1946: moved to Marly. First talks on the Gospel.
Summer 1947: in Recologne with his mother.
January 1948: death of Gandhi.
March 1948: engagement with Chanterelle.
June 24th, 1948: marriage with Chanterelle in Crécy-en-Brie.